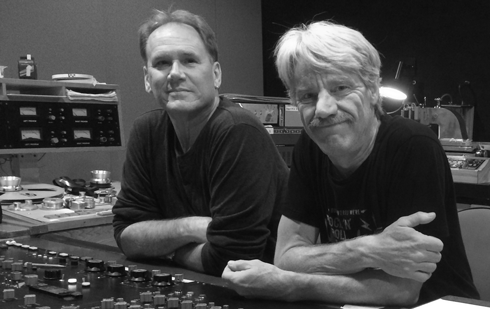 The Studio Prodigy Master Class Series continues with Session Five: Analog Mastering in a Digital World with Chris Bellman and Francis Buckley on June 28 and 29 at the legendary Bernie Grundman Mastering Studios in Hollywood, CA.
Session Five is a two-day advanced class encompassing analog and digital mastering, with an emphasis on mixing techniques for different media. As vinyl sales continue to climb once again, the need to understand how to present mixes for vinyl has returned, and is more important than ever with the advent of digital mixing and loudness maximizing.
On Saturday, Bellman and Buckley begin by taking you on a tour of Bernie Grundman Mastering Studios, and discuss the history of mastering and the importance of mastering your record professionally. Back in Chris' studio, critical listening sessions will illustrate what good mastering can do given great mixes, and conversely, what the common pitfalls in mixing are and how certain issues can be fixed in mastering, and how others cannot. Along the way, Chris and Francis will discuss techniques for avoiding these problems, and how to be best prepared for your mastering session.
We will discuss sample rate conversion, disc bouncing and file transfer issues related to audio fidelity and advise attendees on the best ways to keep the integrity of their mixes in tact en route to their mastering sessions.
Sunday is all about analog! After a tour and history lesson on the custom cutting lathes at Bernie Grundman Mastering, Chris and Francis will share with attendees the ideal techniques to keep in mind when mixing for vinyl, including all of the unique and esoteric issues that only experienced engineers would know. As the day progresses, each participant's mix will be mastered and cut to a 10" acetate to take home.
---
Due to limited space, only 10 spaces are available and you must apply by submitting a discography and a mix to be mastered during the seminar. Mixes will be reviewed by the session leaders, and the top 10 selected will be mastered during the seminar. Each attendee will leave the session with a 10" acetate of their song as well as a digitally mastered file. Kindly submit inquiries to tickets@studioprodigymcs.com via third party transfer site such as hightail.com or wetransfer.com. Files need to be 44.1k/24bit or higher resolution, no mp3's please.
---
ABOUT THE SPEAKERS
Chris Bellman
Chris Bellman's audiophile interests began at an early age. He developed an appreciation for music and theatre through classical piano. His musical journey continued in college with a dual major in music and electronics. After college, Chris worked for Allen Zentz Mastering and during his time there he mastered projects for many major artists such as Diana Ross, Rick James, Lamont Dozier and other Motown and Casablanca acts. In 1984 Chris joined the newly formed Bernie Grundman Mastering studios. Working with the Grundman team allowed him the opportunity of working with even more fine artists, such as: Neil Young, Allan Holdsworth, Carole King, Tom Petty and the Heartbreakers, Van Halen, Elton John, the Civil Wars, Bruce Springsteen, Benmont Tench and many more. Chris has shared Grammy awards with such notables as Ringo Starr, Alanis Morissette, Metallica, Neil Young and The Black Eyed Peas.
Francis Buckley
With a background in music from childhood and recording experience extending back to the early 1970's, Grammy Award winning Engineer/Producer Francis Buckley has been making records for over 30 years. His experience ranges from the groundbreaking punk act Black Flag's first album "Damaged" to winning the Engineering Grammy Award for "Q's Jook Joint" with Quincy Jones. Francis' contributions as engineer and mixer to such multi-platinum recordings as The Pointer Sisters' "Breakout", Paula Abdul's "Forever Your Girl", Wilson Phillips' "Wilson Phillips", Alanis Morisette's "Jagged Little Pill, Quincy Jones' "Q's Jook Joint," and many others, have helped to sell over 100 million-plus records worldwide.
---
Registration will begin at 9:30am on Saturday where attendees can relax with coffee and snacks. Lunch at our favorite local restaurants is included on both days, and is a great time to hang with attendees and mentors alike. Sessions will end around 6pm each day.
Tickets for Studio Prodigy | Session Five are priced at $1000 for the weekend.
This includes lunch on both days, as well as a 10″ acetate and digital master of your submitted song (a $500 value)
Please note that tickets are non-refundable and non-transferrable. Accommodations and travel to LA are the responsibility of the ticket holder, though we are happy to make local recommendations. There are several hotel options within walking distance or a short cab ride of the studio.
Have questions about STUDIO PRODIGY | SESSION FIVE : Analog Mastering in a Digital World?