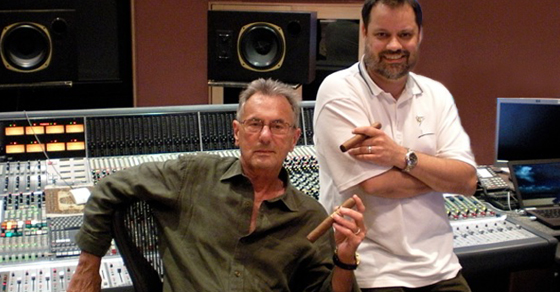 Twenty-two time Grammy winner Al Schmitt and multiple Grammy-nominated engineer Steve Genewick have collaborated on some of the most lush sounding records of the last decade, working with artists such as Ray Charles, Paul McCartney and Diana Krall. Together, they call Capitol Studios their home, and few know how to work those rooms as well as they do.
Al Schmitt
Hanging around his uncle's studio at the tender age of seven years, Al began his career earlier than most, and by the time he was a young man, he was engineering and producing major artists. Many years, sessions, platinum records and Grammys later, Al is still the go-to engineer and mixer for the classiest acts in music. Al's reputation for a lush sound precedes him, and his recordings of both large and small ensembles are a standard for others to follow.
Al's discography spans many decades, and covers vast musical territory. Beginning his career engineering records for such luminaries as Henri Mancini and Sam Cooke, he went on to work with groundbreaking artists such as Jefferson Airplane, George Benson, Toto, Steely Dan, Earth Wind and Fire, Joe Sample, and countless others. Today, Schmitt is known for the exquisite recordings of Natalie Cole and Diana Krall, bringing him full circle back to the orchestral recordings of his New York youth.
Al's personal website is: alschmittmusic.com
Steve Genewick
A two time Grammy nominated recording engineer, Steve Genewick, has over twenty years of experience, both as a studio and live recording engineer. Having recorded sessions at most of the major studios in Los Angeles, Steve has worked primarily out of Capitol Studios as a staff engineer since 1994. He has a wide range of applications for his talents including live recording, post-production scoring for film and television, advertising and multimedia, as well as album production. From large orchestra sessions to single artist recordings; from jazz to rock 'n' roll, from opera to hip-hop, from the old standards to contemporary R&B Steve has worked with most every type of genre imaginable.
Steve began his career as a live sound engineer for bands such as the Young Dubliners and Flogging Molly. From there he launched into his recording career, and for the last decade, Steve has been Al's right hand man, co-engineering on a variety of records. When not working with Al, Steve is constantly busy recording and mixing projects for artists such as Harry Connick Jr, Michael Buble, Ravi and Alice Coltrane, Delta Goodrem, Adam Schroeder, Jeff Hamilton Trio, Chris Walden Big Band, and Big Bad Voodoo Daddy.
Steve's personal website is: stevegenewick.com